Do food trends really drive multi-unit restaurant growth?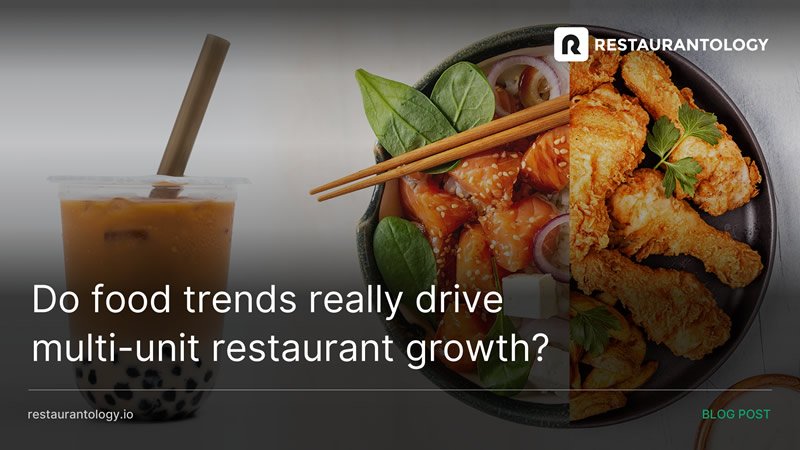 In short, yes. They absolutely do.
Food trends have been around for decades. Over the past few years, it seems that popular items can even "go viral" as younger generations share their favorite trends on social media and turn to restaurants looking to try the latest craze.
And local restaurant operators, it would appear, are taking notice.
Pick a trending item and we'll show you a multi-unit brand that perfected their timing and market investment to turn individually trending items into menu offerings at powerhouse chains making a name for themselves.
Need proof? Here are four:
Acai bowls → 3Natives
Bubble tea → Kung Fu Tea
Poke bowls → Poke Bros.
Hot chicken → Dave's Hot Chicken
So why should you spend time tracking food trends across the industry?
Here are 3 reasons I feel warrant consideration:
Emerging concepts are hungry for expansion accelerators. Most operators know that they have to strike while the iron is hot and thus, expansion strategies are time-sensitive. Anyone offering the ability to increase profits or reduce expenses—be it via software or any other product or service—is likely to earn a conversation.
Emerging concepts often have less vendor/technology debt. Most younger concepts shy away from long-term commitment, meaning a POS conversion might not necessarily be off the table. Existing establishments are typically fairly nimble and are ready to adapt their in-flux operations to meet the ongoing demands of customer volume and location expansion.
Organic growth lowers your overall cost of acquisition. Companies who sell to breakout brands while they're small reap the benefits of additional MRR as unit counts continue to expand. They also potentially avoid complications and complexities that inevitably arise with larger opportunities.
To recap, rapidly-growing concepts: 
✅ Have a time-sensitive reason to consider a new partner
✅ Have less friction in their existing tech stack
✅ Have a great return on investment over time
Takeaway
Tracking food trends can provide significant benefits for companies looking to grow their imprint in the multi-unit restaurant industry. And with the right market intelligence partner, uncovering industry trends—and incorporating them into your CRM, your ICP, and your GTM—has never been easier.