7 rapid-growth coffee concepts to watch
The coffee segment is energized. In September 2022, it was reported that U.S. coffee chains saw a 10% boost in sales–nearing pre-pandemic levels.
Coffee shops are the third largest restaurant category in the U.S., with 11% of sales among the largest 200 chains.
At the top, the big 3—Starbucks, Dunkin', and Tim Horton's—make up the bulk of multi-unit coffee chains, with over 31k locations in the US and Canada. These are big coffee brands with a lot of push and pull across their segment and the restaurant, retail, and hospitality industries. They're important to follow for bleeding and leading indicators of beverage trends, plus overall segment health and growth.
However, positive unit growth in the coffee sector is not just limited to concepts with 1k+ units. Outside of the big three, more than 50 multi-unit coffee-centric brands have expanded their footprint in the past six months, several of which are doing so rather quickly. To help document and share the success of these emerging brands, we've compiled a list of our top picks for rapid-growth coffee concepts to keep an eye on: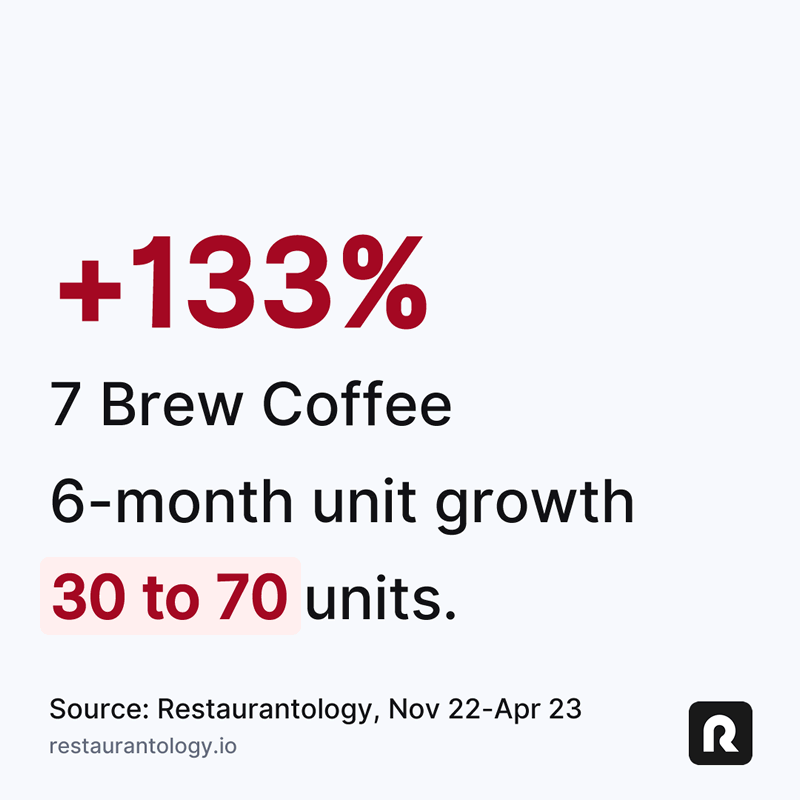 One final jolt—Caribou Coffee
At the end of April 2023, Caribou Coffee announced plans to open 300 new locations across the United States. Caribou Coffee is part of the Panera Brands' portfolio, which also includes Panera Bread® and Bagel Brands®. In the announcement, the brand stated that they anticipate The Manna Group to open 50 locations in Michigan (16% of total locations). They also announced a signed multi-unit agreement to open Caribou Coffee locations throughout Missouri, including St. Louis, Springfield, and Kansas City markets.
As these new coffee shop locations open, we expect to see Caribou Coffee move into the rapid-growth category within Restaurantology.
Until then, be sure you're the first to track emerging and rapid-growth multi-unit restaurant brands. Download Restaurantology's Chrome Extension for the most valid and up-to-date coffee shop market intelligence.