How to use Restaurantology: your quick start guide
Step by step instructions for setting up Restaurantology
Written by
Grant Gadoci
Updated over a week ago
Welcome to Restaurantology — a foodservice insight database. Restaurantology transforms the way individuals and businesses learn about the restaurant industry by making it faster and easier to find, understand, and use our unified body of knowledge. To help you get started, check out the step-by-step guide below.
Tip: When you're ready for more, see our Restaurantology Tips & Tutorials.
Sidebar
---
Restaurantology is a Chrome extension that adds a sidebar to your browser to access our database, giving you a simple tool to access reliable data, track relevant notifications, follow key restaurant profiles, and share your findings with colleagues and teams.
Accessing the Restaurantology sidebar by clicking on the floating icon. Hover over the icon for sidebar size options, click-and-drag the icon to reposition. Click the X below the icon (on hover) to close the extension.
The top system tray is complete with quick links to your dashboard, usage summary, notification center, and system settings.
Restaurantology profiles can be Followed for faster access to relevant profiles (from Settings▾> Following), as well as targeted notifications of changes to profile's firmographic and technographic insights over time.
Additional options to Flag for Review and Share provide you with a variety of ways to export a compact profile summary to send externally.
Searching and browsing
---
Restaurantology has a variety of features to help you both search and browse your way through our insight database, including an automated URL scan, a navigation bar, and a variety of advanced search filters.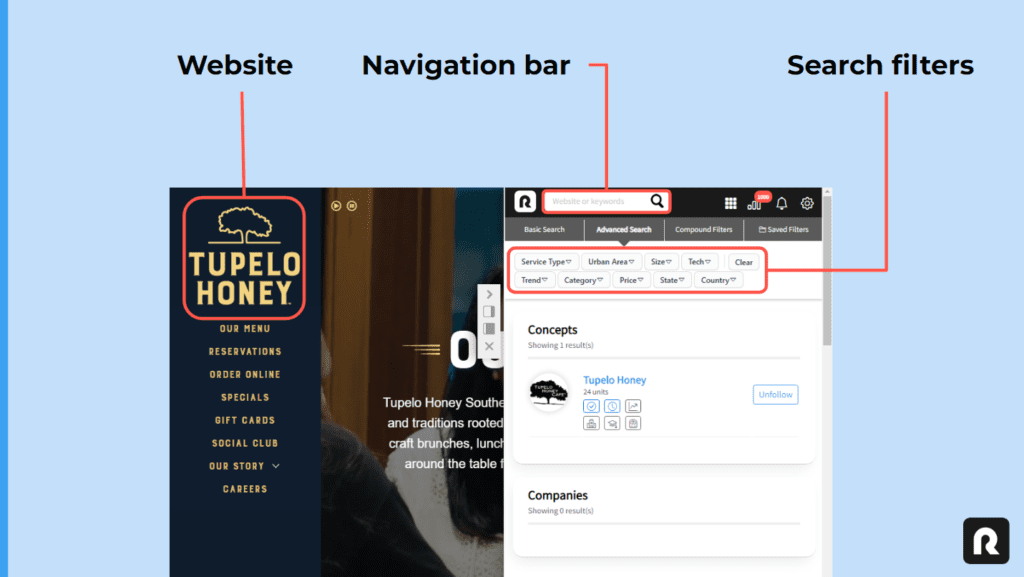 When the sidebar icon is clicked and the Chrome extension is opened, Restaurantology immediately retrieves the webpage URL and scans our database for a match. If found, suggested profiles appear in the Concept and Company search results.
The navigation bar provides you with the ability to globally search through over 15,000 multi-unit restaurant Concepts and Companies by simply providing a keyword, string of words, or known website. Matches are shown in the search results.
Use our advanced search to browse relevant profiles using the criteria that are most important to you. Filter based on geography, tech stack requirements, or size to segment the industry into micro-targeted groups without the hassle of bad data.
Profiles
---
Inside each profile you can search and browse Restaurantology industry data. You'll see a list of profile details containing primary firmographic findings (about), interactive maps and unit lists, a summary of our tech insights, and more.
In Restaurantology, siloed, publicly available data is mapped to familiar and consistent profiles to create a unified body of firmographic insights. When available, these insights can include valuable details like total numbers of locations, service type, ownership hierarchies, and estimated price range.
Territory analytics generated from underlying unit-level data allow you to review a profile's trading area, be it by prevalent state or urban area. Trend charts, Excel-style unit lists, and historical closed unit summaries help track crucial changes over time.
Monthly ups to our technographic insights help you identify technology gaps, validate need via a required integration, spot-check for competitors, and align your partner strategy with shared prospects and customers.
Photos, news, profile history… basically everything you'd need to qualify a deal without having to spend more than 3 minutes doing so. Check out their vibe, learn their history, and start engaging without losing an entire afternoon.