2021 Recap: Online Ordering and Third-party Delivery
Online ordering and off-premise dining continue to boom, and restaurateurs face no shortage of options when it comes to choosing their partner, or partners, of choice.
As of Q4 2021 there are currently over 100 companies offering a variety of online ordering services to the US and Canadian restaurant industries to choose from, many of which include additional services like food delivery, contactless payment, and perhaps even website and POS integration services.
When evaluating the multi-unit restaurant space, or rather when reviewing the website of known US and Canadian concepts that have at least 2 physical locations (aka rooftops), Restaurantology found that approximately 43% of brands are using a third-party vendor to manage their online ordering and delivery.
Here's a rundown of what I think are the 4 most important takeaways from these findings:
1. Many restaurants currently choose more than one delivery provider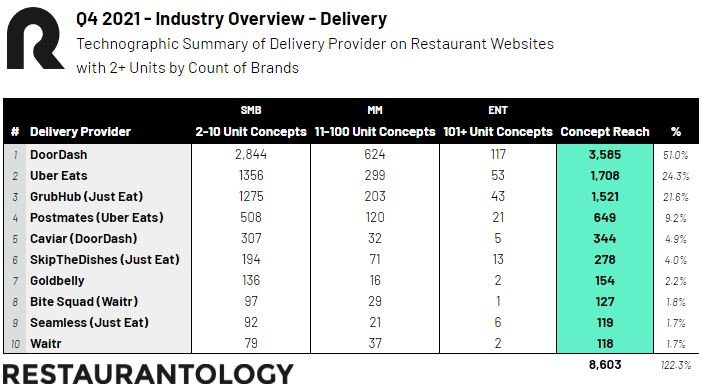 When it comes to choosing a delivery partner, it appears that FOMO, or the fear of missing out, drives many restaurants to ultimately choose a second or even third off-prem provider to maximize their hypothesized reach.
Let's use DoorDash, who currently commands 51% of the multi-unit restaurant delivery space by count of brands/websites, as an example. Of the 3,585 multi-unit restaurant websites with a positive tech fingerprint for the delivery service in Q4 2021, only 35% were using DoorDash exclusively, meaning 65% of their customers are also using services from competitors like Uber Eats, GrubHub, et al.
And this "bet you can't have just one" problem isn't unique to DoorDash. On average, when a third-party online ordering provider is detected on a restaurant's website, that same website has roughly a 76% chance of having a second ordering or delivery service offered, be it complementary or competitive.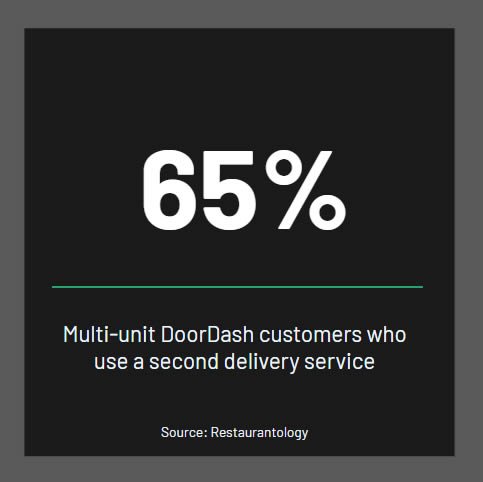 2. Data ownership will drastically shape the future of the online ordering space
As restaurants weigh in on what's important when choosing any industry-specific software provider — loyalty or table management or, in this case, online ordering to name just a few — one question seems to always make its way to the forefront: who gets the data?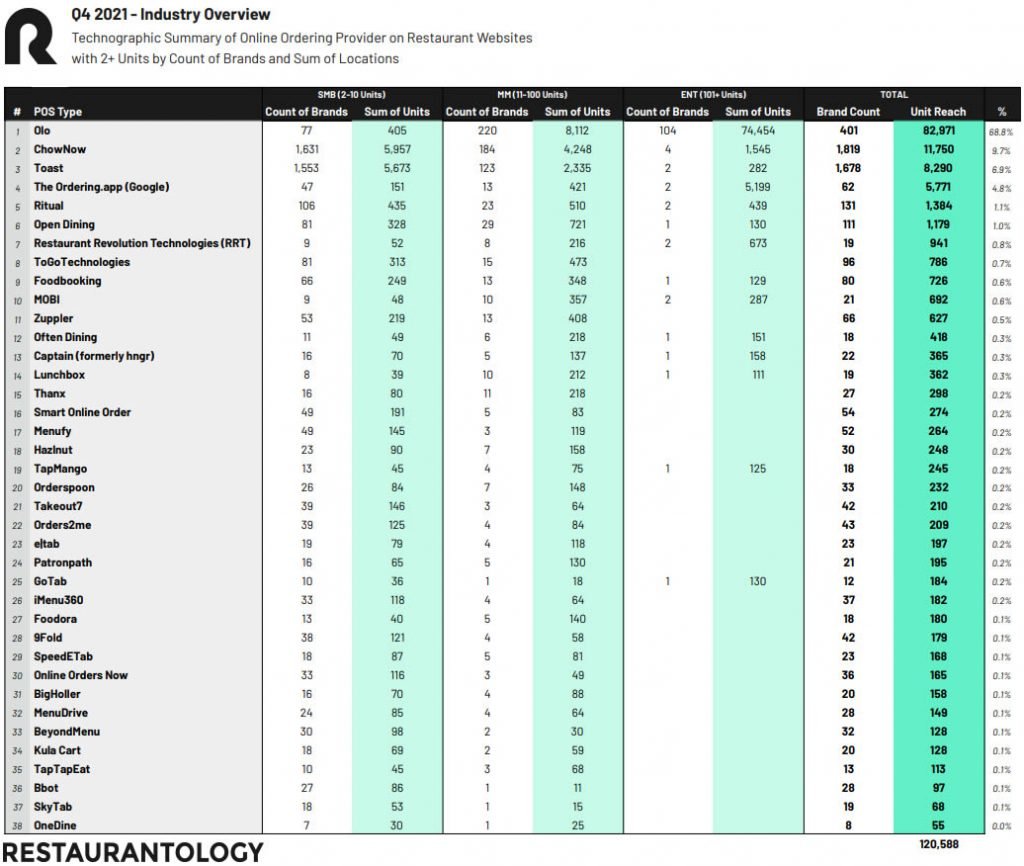 Consumer brands like DoorDash, Uber Eats, and GrubHub seem to be startlingly clear on this subject. In short, they own the customer's data, and along with that the right to market to their customers as they see fit. Yikes.
This largely and frustratingly puts a majority of restaurants in the proverbial dark. As the hospitality industry continues to play catch-up to other industries already swiftly and nimbly calculating Customer Lifetime Value (CLV), any and all data ingestion points that contribute to reliable recency, frequency, and spend data are beginning to shape a new, vast integration landscape that many bigger brands are beginning to outright require.
We're already getting a glimpse of the data-sharing showdown in New York, where DoorDash is suing the city over who retains the rights to its customer data.
Regardless of the outcome, restaurants are beginning to flock to services promising complete data ownership. And if they continue to do so, delivery providers like DoorDash and Uber Eats will have to settle for the delivery commission without the right to retain the customer's data.
3. Smaller companies connecting restaurants to their online ordering data are picking up steam
Outside of the big names in online ordering for restaurants, several smaller start-ups are beginning to rapidly accelerate both growth and profits as they seemingly focus heavily on the SMB (6-20 units) and Mid-Market (26-100 units) segments.
Notable names to watch include Hazlnut, Bbot, hngr, MOBI, Restaurant Revolution Technologies (RRT), Lunchbox, TapMango, GoTab, and OneDine, all of whom have added significant mid-to-large sized logos to their customer lists in the past 6 months.
There is still a ton of room for restaurants looking to both own their data and control their brand identity, and a slew of tech companies who are ready and willing to help them.
4. We will continue to see competition and consolidation in this space
The online ordering and food delivery space is currently ripe with mergers and acquisitions, big and small.
Netherlands-based Just Eat Takeaway acquired GrubHub, SkipTheDishes, and Seamless to accelerate expansion in the US and Canada. Uber Eats acquired competitor Postmates to strengthen its market share. Waitr purchased Bite Squad, H-E-B grocery purchased local favorite Favor. Internationally, Deliveroo and Glovo have both made notable investments in the past 12 months, and are likely to continue. With well over 100 companies remaining in the online ordering and food delivery space, however, it appears that there is still significant room for continued consolidation.
Recognizing the astonishing increase of on-demand ordering, both POS and loyalty providers are similarly swarming the "data-sphere," offering integration-dependent services that help restaurateurs capture their online end-user data and tie it to better marketing automation, a customer data platform (CDP), and everything in between.
Notes About Our Data
Restaurantology currently collects and analyzes public multi-unit restaurant data for the US and Canada. Restaurantology insights are intended to help our customers have a better, more strategic understanding of the hospitality industry. Our data can help reduce the time from insight to action via a unified body of knowledge that customers can search, browse, and use as they see fit.