Can you tell a restaurant's POS by visiting their website?
Many restaurants are feeling pressured to increase their online presence as the world continues to pivot towards on-demand restaurant services. Wanting to help, many Point-of-Sale (POS) providers see an opportunity to add value to their customer base by adding things like online ordering, loyalty programs, and more.
In Q4 2021, Restaurantology visited over 16,000 multi-unit (2+ locations) restaurant websites to evaluate whether or not there was a detectable POS fingerprint on the underlying webpages. There are roughly 40 restaurant POS that can be directly integrated into a website for things like online ordering, gift card or merchandise purchasing, and more.
Here are the Top 20 results by count of Concepts, grouped by the total number of units each brand owns:
There's a lot of knowledge that can be deduced from these insights. Here are a few crucial takeaways:
1. For restaurants with 2 – 100 units, there's a 28% chance of detecting a POS on their website
Knowing a restaurant's tech stack, including their POS, can often be make-or-break for a sales team's prospecting efforts.
While the tech landscape of third-party "middleware" integrators continues to grow, a quarter of restaurants continue to rely on their POS provider to manage things like online orders, gift card balances, and the like.
Note: when reviewing the results, it's important to know that while over 40 major and minor POS providers can be detected on a website, certain companies — Micros, POSitouch, and Squirrel as an example — have limited or zero detectable online presence when mapping out the industry.
2. Of the ~4.5k multi-unit SMB and MM restaurant brands with a POS detected on their website, 69% choose 1 of 3 top brands
Of the 4,487 SMB and Mid-Market restaurant websites with a direct POS integration detected in Q4 2021, nearly three quarters chose Toast, Square, or Aloha (NCR).
The top 10 brands control a commanding 92% of all detectable POS fingerprints, and the top 15 brands each have at least 50 multi-unit customers.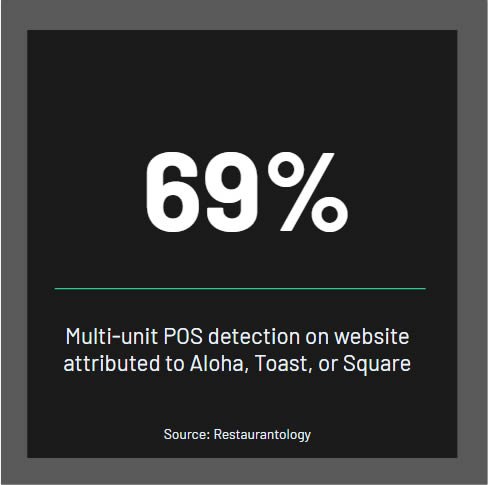 3. When a POS is detected, there's a 6% chance a second POS will be present
While it's rare, six percent of multi-unit brands have 2 (or more) detectable POS on their website. This is the likely result of larger brands with heavily franchised units allowing groups or regions to freely choose what point-of-sale they use to manage their business.
A good example of multiple POS's being integrated into a single website is 16 Handles, an NYC-based soft serve chain with 31 units, who at the time of this article have both Revel and Toast integrated into various places on their website.

Notes About Our Data
Restaurantology currently collects and analyzes public multi-unit restaurant data for the US and Canada. Restaurantology insights are intended to help our customers have a better, more strategic understanding of the hospitality industry. Our data can help reduce the time from insight to action via a unified body of knowledge that customers can search, browse, and use as they see fit.